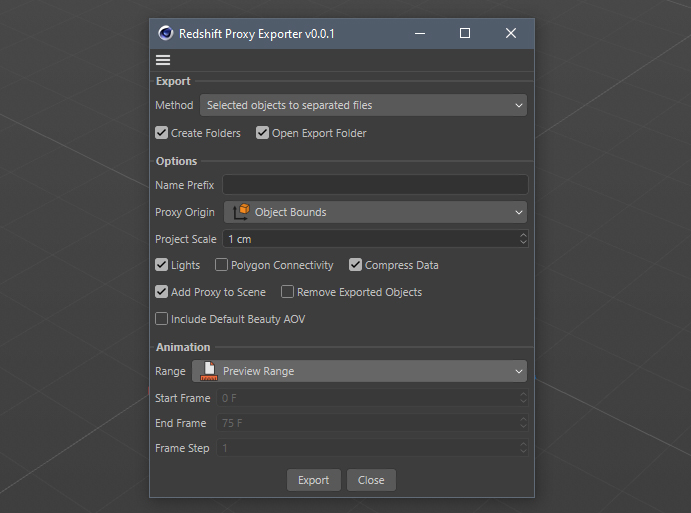 This is handy plug-in for Cinema 4D. It helps exporting Redshift Proxy files different ways. It works like the default Redshift Proxy File Exporter but this plug-in gives some goodies.
Extra features:
Export all or selected objects to separate files
Option to create folders for objects
Open export folder in explorer while exporting
Monitor exporting process in status bar
Installation:
Place Redshift Proxy Exporter plug-in to your appdata plug-in folder to make it work properly (avoid permission errors), since plug-in has to write and read the settings file.
If you close the dialog with "Close" button, the plug-in will remeber the last used settings, if you close it with the cross button, the plug-in does not save the settings.
Win: "C:\Users\[USER]\AppData\Roaming\MAXON\Cinema 4D R[VERSION]\plugins\"
Mac: "/Users/[USER]/Library/Preferences/MAXON/CINEMA 4D R[VERSION]/plugins"
The plug-in is created for Cinema 4D R21!
Get it:
You can buy this plug-in from Gumroad
Redshift Proxy Exporter plug-in for Cinema 4D